Our mission is to make diving a lifetime of adventure through an exclusive quality service.
We learned the importance to exceed the expectations of our guests, to give them unforgettable experiences that will last a lifetime, making them part of the GooDiving Family.
After years with PADI, being the only
5 Star Instructor Development Center
in the Golf Del Sur area, we are now proud to
offer the full range of SSI high quality digital courses in 39 languages
, taught by our highly qualified instructors and marine biologists. 
If you just want to have fun and try how it is to dive into our beautiful ocean and discover stunning creatures, join us by exploring different boat and shore dive sites.
We also love to welcome non-divers on our boat and shore excursions for
Exclusive Guided Snorkeling
and share with them the chance to spot dolphins and whales.
We enrich our excursion with Pearls of Marine Biology to increase our guest's awareness about the incredible ocean life that Tenerife has to offer.
My natural environment is the ocean! I am passionate about everything that is under its surface and I love to share this passion with each one of you.
Before moving to Thailand to explore and share my love of the ocean and help many students achieve their dream of learning to dive, I worked in Italy, in some of the best diving centres in the Mediterranean sea.
When I'm not blowing bubbles and looking for marine life, I am happy to use my magic hands to make even the most capricious equipment work!
Advanced Open Water Instructor
My curiosity for jellyfish brought me to the ocean which revealed to be the "paradise that everyone should have a chance to explore".
After working in Italy as a Divemaster, my research as a Marine Biologist took me to Indonesia and Washington DC in USA. However the call from the ocean was too strong! This led me to Mexico where I became a Scuba Instructor and on to the Maldives before returning to Italy. Have you ever wonder what that fish, which you just saw on your dive, is? I can help you identify him!
I love to share my passion and knowledge of the underwater world with you, making each dive that little bit more special.
Advanced Open Water Instructor / Marine Biologist
I grew up at Lake Balaton in Hungary, where I studied Active Tourism Economy and helped to organize many sport events related to the water.
I decided to work abroad and fulfill my dream to travel and teach people how to dive and how to protect the ocean and nature. Honestly my heart is underwater. I have been able to call beautiful places as Virgin Gorda, Martinique, Aruba, Maldives, Cyprus and Vietnam as home and I am blessed to work together with great people as PADI MSDT and SSI Instructor. 
I love to spread the mission to protect the ocean anytime and anywhere.
Advanced Open Water Instructor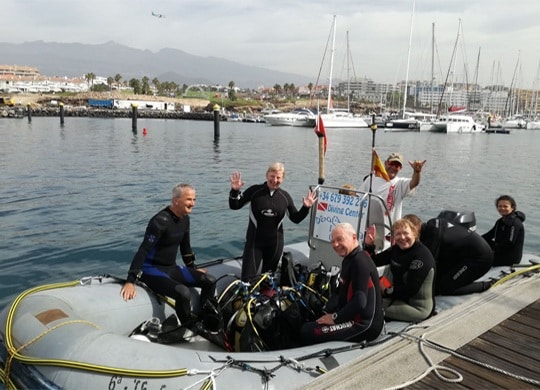 Our RIB Capelli Tempest 625 with a Suzuki 110KW engine, navigates our Ocean to take us safely to discover the best boat dive sites.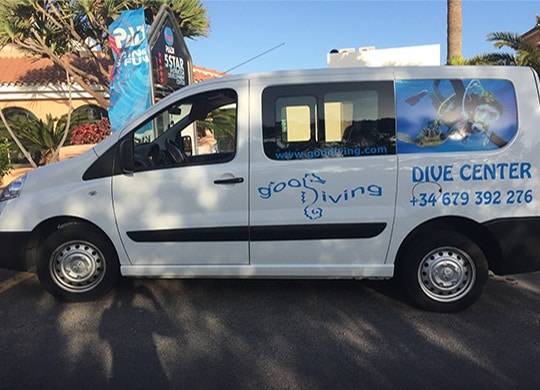 Our air-conditioned 6 seats Peugeot Expert Tepee, rides the asphalt to accompany us to discover the best shore sites safely.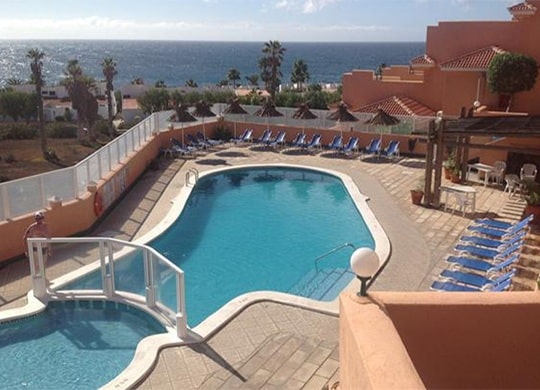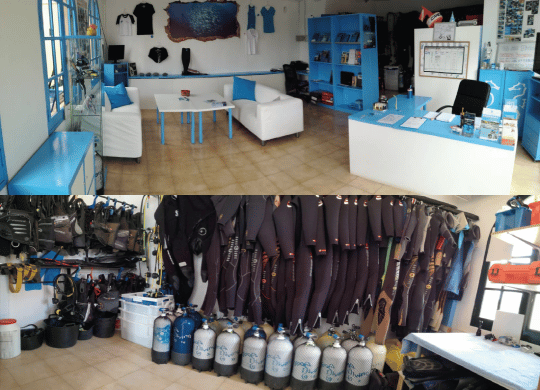 You can easily spot our centre due to the big SCUBA flag right outside the shop and the beautiful window with Dolphins. We have a wide selection of brand new equipment from one of the best brand in the market: Mares.